BLESS WEEK 2022 | June 12-19, 2022
Mark your calendar for First Baptist Plano's church-wide home missions week, June 12-19. During this week we will intentionally engage and BLESS the community surrounding the church. Opportunities for church-wide involvement are planned - this week is specifically designed for the whole church family to participate in a meaningful way.
We are so excited about Bless Week 2022. Bless Week is an incredible time of service to the community and mission work right in our own city. You don't want to miss out!
Click Here to Volunteer to Serve at Bless Week
Bless Week Schedule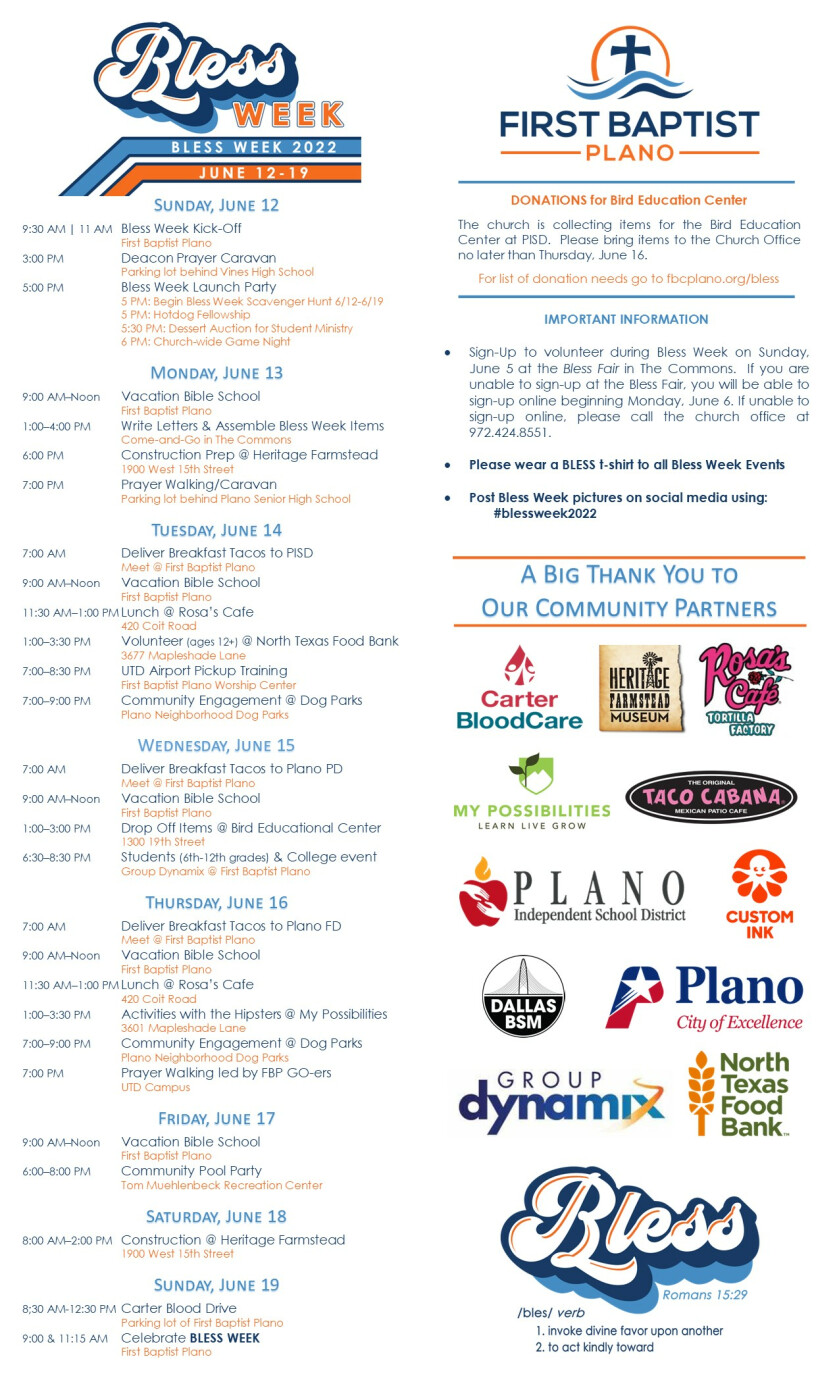 ---
As part of Bless Week, FBP is collecting items for THE BIRD EDUCATIONAL CENTER @ PISD.
Please bring items to the church no later than Wednesday, June 15 @ noon. See list of suggested items to donate below.
*BIG NEEDS*
Bicycles (New or Used)
New Tennis Shoes (Girls: 8-13, 1-5; Boys: 8-13, 1-5; Women: 6-11; Men: 6-12)
New Blue Jeans or Navy Slacks (Girls: 4-20; Boys: 4-20; Women: 0-15; Men: 29x30 - 40x32)
New T-Shirts (XS-XXL)
Backpacks
*GENERAL NEEDS*
New Socks (Sizes 6 and up; S, M, L)
New Undergarments (Girls: 4-16; Boys: S-XL; Women: 5-9; Men: S-XL)
Hygiene Products (Bar Soap, Toothpaste, Toothbrush, Lotion, Deodorant, Shampoo, Conditioner, Floss)
School Supplies (No. 2 Pencils, Pink Erasers, Sharpeners, Spiral Notebooks, Colored Pencils, Scissors, Wide Ruled Loose-leaf Paper, Glue Sticks, Dry Erase Markers, Pocket Folders with Fasteners)
(Laundry Detergent, Can Openers)
---
Watch the video below, Bless Week 2021, to view a sample of what the week is like!