VBS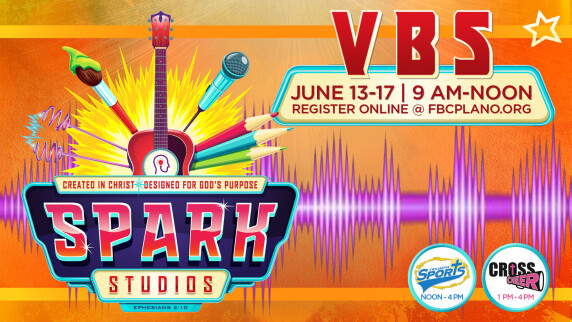 2022 VBS REGISTRATION IS OPEN!
June 13-17, 2022 | 9:00 AM - NOON | FREE
First Baptist Plano (3665 W President George Bush Hwy, Plano, TX 75075)
We are blessed to have VBS be a big part of our church-wide "home mission" week, Bless Week!
4 years - 5th grade ( Under 4 years may attend with a parent/guardian. )
All parents are invited to join us at 11:30AM for our small group time & lunch*. During small group discussion & lunchtime* parents will eat & hear what their children have learned and meet other parents.
*We apologize that we cannot accommodate food allergies for lunchtime. Children with food allergies should plan to bring a snack & lunch.
Click Here to Register for VBS
---
AFTERNOON CAMPS
TRIUMPH SPORTS & CROSS CHEER
June 13-17, 2022 | NOON-4:00 PM
First Baptist Plano (3665 W President George Bush Hwy, Plano, TX 75075)
VBS is FREE, but for an additional cost, families can make VBS an all-day adventure by signing up for one of our afternoon camps (Triumph Sports or Cross Cheer).

Triumph Sports is a Christ-Centered sports camp that uses sports as a means to help spread the Gospel. At camp every child will learn memory verses as well as hear a Bible Lesson at snack time. Triumph Sports partners with churches.
At Triumph, we utilize every opportunity to disciple our future generation. Through our interactive sports camps, Triumph offers daily Bible lessons and memory verses within a fun, safe environment.
Triumph Sports likes to combine Memory Verses with stories in the Bible, acted out by our staff, to keep kids engaged in the material. Some of the stories are Daniel & the Lions Den, David & Goliath, Joseph, Noah, and many more. They are fun, engaging, and combined with a memory verse and are extremely memorable to the kids.
Click Here to Register for TRIUMPH SPORTS CAMP

Cross Cheer was created as a ministry to reach young girls through the sport of cheerleading. We believe what the Bible says and integrate Christian teachings in to all we do!
Cross Cheer's cheerleading camps provide a chance for girls to learn the fundamentals of cheerleading in a fun, Christ-centered atmosphere!
Camp activities include cheers, chants, stunts, jumps, dance and tumbling and a special Bible Verse cheer.

Games and crafts are interspersed throughout the week.

Each camper is assigned to a buddy team and will choreograph a custom routine for performance day.

Devotionals are shared daily to help campers understand more about God.