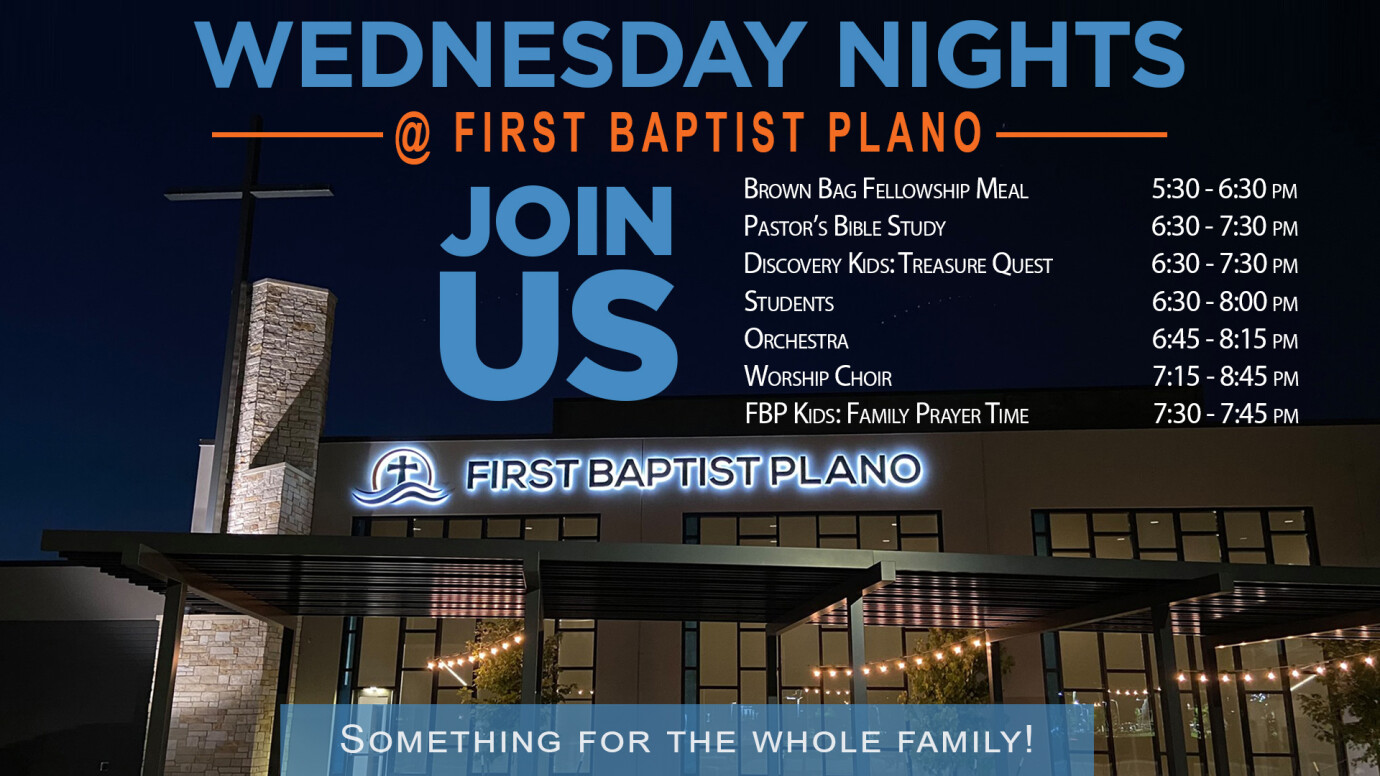 February 8, 2023 5:00pm
There is something for the whole family at First Baptist Plano on Wednesday Nights!
FOR EVERYONE
Brown Bag Fellowship Meal @ 5:30 PM: Bring your dinner and join the FBP church family in the Commons for food, fun, and fellowship!
FOR KIDS
Discovery Kids- Treasure Quest @ 6:30 PM: Treasure Quest will teach kids how to use their Bibles, study scripture, and implement God's Word into their lives. With a small group approach, kids will form deep friendships with their Adventure Groups and learn what it means to let the Word dwell among God's people.
FBP Kids: Family Prayer Time @ 7:45 PM: This is a special time of worship and guided prayer for parents and children.
Childcare @ 6:30 PM: Treasure Quest is for PreK through 5th grade. Childcare is available for younger children during the Pastor's Bible Study and MOPS, which all meet simultaneously.
FOR STUDENTS
Wednesday Gathering @ 6:30 PM: Students in 6th-12th grade gather in the Cove on Wednesday nights for community, games, worship, and a message from scripture.
FOR ADULTS
Pastor's Bible Study @ 6:30 PM: Pastor Craig leads an interactive Bible Study on Wednesday nights. He chooses a theme and explores that theme for several weeks. His first Wednesday night series for Fall 2022 will focus on Missions.
MOPS @ 6:30 PM: On the 1st and 3rd Wednesday of each month, MOPS will meet at 6:30 PM in room 4113. At MOPS, women gather and support other moms of preschoolers to preteens. We believe in the simple but revolutionary idea that remarkable things happen when moms come together.
Worship Choir @ 7:15 PM & Orchestra @ 6:45 PM: Make a joyful noise for the Lord! Now is a great time to join the choir or orchestra.